Tag Archives:
Crankshaft
Holly = fat, frumpy and blonde with misshapen head. Donna = fat, frumpy and blonde with HORRIBLY misshapen head. Got it.
–Epicus Doomus
Throw another shrimp on the barbie 'cause here comes another middle-aged blonde woman! The fact Mindy rhymes with Cindy and she's Cindy– err, Cynthia Summers's doppelganger isn't helping matters in today's strip. Living outside of Westview seems to have some advantages though, you don't randomly wake up every six or seven years to find you've suddenly aged a decade overnight.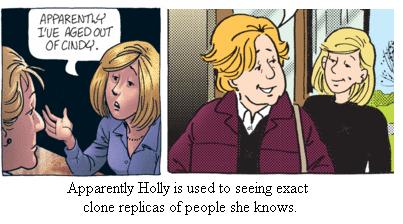 I don't want to peek ahead, but I feel like I'm Nostradamus or something with what is about to go down. The thing is, Batty Tom has already done the Hey, stranger, your son is in the military? Have my $900 comic for a dollar." schtick. I assume the more issues she gets the ones left over are scarcer and worth more money.
Not to coin nerd out here, but it'd be like finding out a friend of your coworker's nephew from out-of-town is working on a penny collection so you offer to sell him a 1877 Indian Head Cent in XF condition for one cent because you think kids that still collect pennies are cute.