Tom Batiuk's slipping–there are barely any signs that Becky only has one arm.  Someone who has never read the strip before would not get that information from today's offering.
Harry Dinkle is one of those characters that I loathe–in my ranking he's just below Les.  Yet I don't hate him in today's episode.  I think that's because he's substituted his typical sneering condescension with genuine bafflement; instead of finding someway to insult Twitter and its users, he simply admits he has no use for them and lets it go at that.  (Of course, it wouldn't be Funky Winkerbean without smirking condescension, so Batiuk gives the line to Becky.)
So, a Funky Winkerbean first–the only appearance thus far of Dinkle where my revulsion didn't kick in instinctively.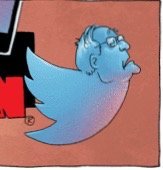 That blue Dinkle-Twitter abomination on the other hand…wow, somebody had a really bad acid trip.  I think I saw that thing chasing the Beatles around Pepperland.
Thus ends my time in the chair.  I thank you for your wit and indulgence, and ask that you give it up for the fabulous DavidO!