Maddest of mad props to ComicBookHarriet for her timely and courageous reporting on this wildfire that has ravaged a huge swath of southern California.
OK: well, I sorta lied yesterday when I commented about having watched The Phantom Empire (heretoafter referred to as TPE) as part of a midnight show at the old Capitol Theatre in Passaic, New Jersey. There I may indeed have taken in an episode or two, mixed in with some choice Three Stooges shorts, wacky commercials, and Star Trek bloopers. But this was the late 1970's, kids. And, blame the microdot I guess, but for the life of me I cannot recall a whole helluva lot about TPE. Do you suppose Tom Batiuk get turned on to The Phantom Empire as a  stoned young Kent Stater, maybe as part of a midnight show at the Agora? Or did he discover it as a striped shirted, balding young boy, much like the one he draws as Jff's boyhood alter ego in today's strip? So stressed out by the obtruding smoke and flame is Jeff that now his hallucination is having hallucinations. Come to think of it, back in May we had Funky hallucinating a robot while jogging. That's kind of an odd thematic well to which to return. These humanoid, robotic apparitions, then,  will likely turn out to be in reality some abandoned movie gear that Jff spotted while hiking in.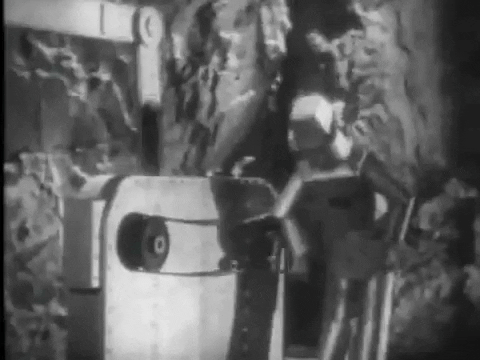 Anyway, I never did watch my dollar store TPE DVD, and  I'm not about to YouTube all "Twelve Dazzling Chapters" (each between 20-30 minutes in length; the Wikipedia entry about TPE has a link to a 70-minute feature edited from the serial).  The Phantom Empire trailer that I've shared below makes the serial look much more like an oater than a sci fi thriller: more Roy Rogers than Buck Rogers, more Buffalo Bill Cody than Commander Cody. As you watch the trailer, be sure to savor the truly excellent typography of the title cards.